Watch Video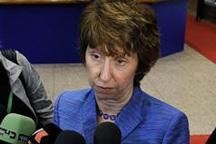 Play Video
The European Union and Canada have separately adopted new sanctions against Iran, targeting the country's foreign trade, banking and energy sectors. The moves are the latest in a series of measures taken by the international community, in an effort to halt Iran's nuclear program.
Also on Monday, Russia's Foreign Ministry rejected Iran's criticism of Moscow's support for United nations sanctions against Tehran as 'unacceptable'.
EU foreign ministers in Brussels called the restrictions a "comprehensive and robust package", focused on trade, financial services, energy, and transport. There are also visa bans and asset freezes for Iranian banks, the Islamic Revolutionary Guard Corps, and Iran's Shipping Lines.
The new EU restrictions will impose penalties against individuals and institutions it says are helping Iran develop its nuclear and missile programs.
Officials say the sanctions will come into force in the next few weeks, after they are published in the EU's official gazette.
The new measures are intended to encourage Tehran to seek a negotiated solution to the crisis over its controversial nuclear programme.
Steve Vanackere, Belgian Foreign Minister, said, "It's a dual track position, it's a position on which we want to be able to encourage Iran to come to the negotiation table. It's a position on which we know that dialogue can be the solution for the problems, but at the same time, since it's dual track, if dialogue is not possible sanctions can be necessary, and then they have to be balanced, and I think that we came to an agreement on a position which is quite balanced."
Canada says its new measures will include a ban on any new Canadian investment in Iran's oil and gas sector. There will also be restrictions on exporting goods that could be used in nuclear programs.
Iranian banks will be barred from opening branches in Canada, and Canadian banks will not be able to operate in Iran.
In Tehran, Iranian Foreign Ministry spokesman Ramin Mehmanparast denounced the EU decision, saying it would damage the atmosphere of negotiations.
However, Iran HAS signaled it's ready to return to the negotiating table over a nuclear fuel swap WITHOUT conditions. The country's envoy to the International Atomic Energy Agency confirmed the news on Monday.
European Union foreign affairs chief Catherine Ashton welcomed the announcement, but said she wanted to see the details first.
Related stories
Editor:Zhang Jingya |Source: CNTV.cn