Watch Video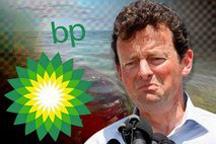 Play Video
The oil giant BP is likely to announce the departure of Chief Executive Tony Hayward ahead of its half-year results on Tuesday. He became the public face of the company, during it's early efforts to contain the massive Gulf oil spill.
Sources say Hayward will be offered a job with the company's joint venture in Russia. His likely successor is Managing Director Bob Dudley, an American who has been overseeing the spill response since June.
Camera crews line up outside BP's London headquarters - hoping for news on the future of the beleaguered oil company's CEO.
The man they wanted to see was BP CEO Tony Hayward who's expected to step down from his post in the wake of the Gulf of Mexico oil crisis.
For three months since a BP oil rig exploded in the Gulf of Mexico he has been dealing with America's worst ever environmental disaster, a long battle to plug a leaking oil well and a company which at one stage lost 50 per cent of its market value.
But now it looks as if he will be relieved of his responsibilities as he is widely expected to step aside to allow for new leadership .
The move is anticipated to coincide with the release of BP's second quarterly results.
Hayward drew heavy criticism in the U.S. for complaining he "wanted his life back" weeks after the explosion at the offshore rig killed 11 workers.
But oil analysts say his recent publicity has obscured a successful past.
Peter Hitchen, oil analyst, said, "He has actually been a very good chief executive despite what you might have seen in the press recently . He inherited BP at a very difficult time after the Texas city accident the problems up with Alaska - his main job was to try and restore thing getting BP operating properly and we were starting to see the signs coming through."
American Bob Dudley - seen here wearing a dark red tie - is expected to replace him. He is managing the clean-up operation in the Gulf of Mexico.
His background could soften U.S. led attacks on the British oil major according to financial services experts.
And the uncertainty stems from what are predicted to be eye watering second quarter losses following disaster's financial impact which at one stage lopped 100 billion U.S. dollar from BP's market value.
The results could represent the largest quarterly loss in British corporate history.
Editor:Zhang Jingya |Source: CNTV.cn