Watch Video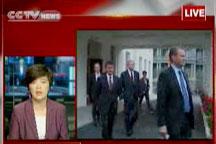 Play Video
For more on this developing storty, let's cross to our UK correspondent Li Qingqing in London. Hello Li Qingqing.
Q1: Why do you think BP announced Tony Hayward's departure with its shocking half year results? Was the company clumping all the bad news together?
Q2: Soon-to-be CEO Bob Dudley took over from Hayward as the man in charge of the oil spill response after a series of embarrassing public gaffes by his British counterpart. Do you think Dudley will help recover BP's image and credibility, especially in the US?
Q3: BP has already spent 32 billion dollars on oil spill costs, which had a huge impact on the company's half year results being 17 billion dollars in the red. What do these numbers mean to BP, and I guess more importantly, its investors.
Editor:Zheng Limin |Source: CNTV.cn