Watch Video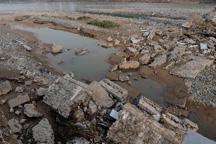 Play Video
Here in China, the collapse of the Yihe Bridge in Luanchuan county in west Henan Province has left 37 people dead, and 29 others missing. Search and rescue work is continuing.
A local government official says rescuers are focusing on places that might hold people pulled away by torrents, such as banks covered with foliage. The bridge collapsed at about 5 p.m. on Saturday in Luanchuan County, Luoyang City. About 42 people were plunged into the rushing water.
An initial probe shows the 23 year old bridge collapsed after fallen tree trunks became stuck beneath it, blocking the passage of the surging flood waters. It is the only crossing along a 4-km section of the river.
Armed policemen ferry local residents with a speed boat at the lower reaches of
collapsed Yihe River Bridge in Luanchuan County, central China's Henan Province,
July 27, 2010. The Yi River Bridge collapsed at about 5 p.m. Saturday in Luanchuan
County, plunging 42 people on it into the rushing waters. (Xinhua/Zhao Peng)
Related stories