Watch Video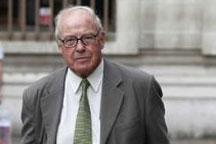 Play Video
The former UN chief weapons inspector, Hans Blix, has told a British inquiry into the Iraq war that both London and Washington relied on dubious intelligence sources, ahead of the 2003 invasion.
Hans Blix said the United States and Britain based their weapons assessments on poor quality information.
Hans Blix, Former UN chief weapons inspector, said, "What was really important about this business of sites given, was that when we reported that 'no, we didn't find any weapons of mass destruction', they should have realized, I think, both in London and in Washington that their sources were poor."
Blix says he warned the then British Prime Minister Tony Blair and US Secretary of State Condoleezza Rice, that there was no firm evidence Saddam Hussein had weapons of mass destruction.
During questioning, Blix spoke about UN Security Council Resolution 1441, passed in November 2002, which had led to the weapons inspectors' return to Iraq prior to the war.
He said his team wasn't given enough time to assess the true situation.
Hans Blix, Former UN chief weapons inspector, said, "And I am a little puzzled, I must say, at how they calculated because the impression was that the invasion would take place through Turkey and that it would occur even in the beginning of January. That would have given very, very short time to the inspections. As it turned out we only got three-and-a-half months, but had they gone into Turkey it would have been even shorter."
The five-member Iraq inquiry panel has been set up by the British government to examine the case made for the war. It will look at intelligence, and errors in planning for post-conflict reconstruction.
Editor:Zhang Pengfei |Source: CNTV.CN