Watch Video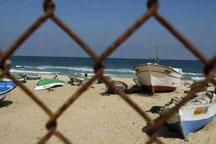 Play Video
The four-year blockade of the Gaza strip by Israel, has had devastating consequences on the region's economy. But with the recent loosening of the blockade, things are starting to look up for the owners of local businesses.
This is a snack food factory in Gaza. The company once employed 250 people. Denied access to West Bank markets by Israel, the company can only afford to keep a few dozen workers.
The situation may be starting to improve, however, after an easing of the restrictions in June. Packaging materials from Israel have been delivered over recent weeks. However, the company's owner says things need to improve much more.
Wadih El Wadiah, Snack Factory Owner, said, "The crossing should be opened on both sides, export and import. We are receiving foreign products - they should be opened for the local factories to export."
Fishing industry also face devastation. The Israeli navy only allow fishermen to sail up to three nautical miles away from shore.
One local fisherman says his ship hasn't been to sea in four years.
Jamal Basala, Fisherman, said, "As a fisherman owning a boat I used to earn about 2600 US dollars, today I earn less than a fifth of that. Before the siege I employed 20 people, now I only have two employees."
Unemployment has soared in Gaza. The level is currently around 40 percent, compared to around 30 percent in 2007. The UN says 80 percent of the population now depends on its food aid, up from 40 percent a few years ago.
The blockade has been felt across all sectors, from food production to furniture. Some of the previously banned consumer goods and raw materials have started crossing into Gaza in recent weeks. Israel says it will let in everything, except weapons, or materials which can be used to make them.
Editor:Zhang Pengfei |Source: CNTV.CN