Watch Video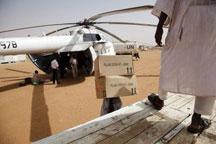 Play Video
UN officials say Sudan's military has grounded a Russian-operated UN helicopter in Darfur after bad weather forced it to land off target.
The officials denied earlier reports that it had been seized by rebels.
Muawia Osman Khalid, Spokesman of Sudanese Foreign Ministry, said, "There has been inaccurate information about the hijacking of a Russian helicopter belonging to the UNMID in Darfur. A subsequent investigation has proven the information to be incorrect. The helicopter simply landed in a place it should not have. It landed in rain and mud, so it was difficult for it to take off again.
Editor:Zhang Pengfei |Source: CNTV.CN