Watch Video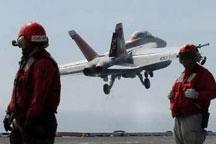 Play Video
US and South Korean forces have continued their joint military exercise into the last day of the four-day joint exercise.
Code-named "Invincible Spirit," the naval and air exercises involve 20 ships and submarines, 200 aircraft and 8-thousand troops. These forces along with the USS George Washington super carrier have been set up in international waters off the South Korean coast.
US officials say the maneuvers are not intended to provoke a response, although they do want to send the DPRK a message that further aggression will not be tolerated.
Rear Admiral Dan Cloyd, US Navy, said, "Our intent is not to provoke reactions from any nation, be it North Korea or any other here in the western Pacific region. It's to demonstrate our readiness or inter-operability, our collective resolve as two nations, the United States and the Republic of Korea and the alliance, to maintain freedom of access, freedom of the seas and provide for a better future for each of our respective nations."
Editor:Zhang Pengfei |Source: CNTV.CN