Watch Video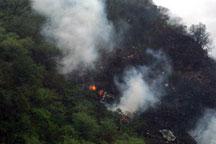 Play Video
We begin in Pakistan, where a passenger plane carrying 152 people has crashed into the hills surrounding Islamabad.
Seven survivors were pulled from the plane's wreckage at the crash site in the Margalla Hills. At least 20 bodies have been recovered so far.
The AirBlue flight Airbus SAS plane was flying from Karachi to Islamabad when it crashed at 10am local time.
The cause of the AirBlue crash is not yet known. A Pakistani civil aviation official said the plane was about to land at the Islamabad airport when it lost contact with the control tower.
Pakistani troops have been mobilized at the crash site, with seven helicopters joining rescue work. Dozens of passengers' relatives gathered at Islamabad airport crying and desperate to get information about their loved ones.
Pakistani President Asif Ali Zardari and Prime Minister Syed Yusuf Raza Gilani expressed their shock and grief over the aircraft crash. No Chinese were found on the passenger name list which was released by the local authorities.