Watch Video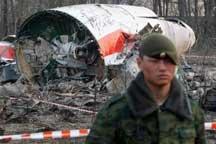 Play Video
Now let's take a look at the major air crashes that have occurred in recent years.
On May 20th, 2009, an Indonesian Air Force Hercules C-130 crashed and burnt in Magetan, East Java, killing at least 96 people and injuring 15 others.
On June 1st, 2009,Air France Flight 447, an Airbus A330, went down over the Atlantic Ocean after leaving Rio de Janeiro for Paris, killing all 288 people on board. On June, 30th, 2009, an Airbus A310 crashed into the Indian Ocean as it approached the airport on the Comoros Islands, killing 152 people on board, with only a 13 year-old French girl surviving.
On April 10th, 2010, 96 people aboard Polish President Lech Kaczynski's official Tupolev Tu-154 plane were killed in a crash near Smolensk airport in western Russia. The plane carried the Polish leader, his wife and a large number of senior officials of Poland.
And then on May 22nd, 2010, at least 158 people were killed when an Air India Express plane from Dubai overshot the runway during landing and crashed near Mangalore airport in the southern Indian state of Karnataka.
Editor:Zhang Pengfei |Source: CNTV.CN