Watch Video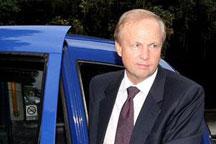 Play Video
BP's incoming Chief Executive Bob Dudley calls the Gulf oil spill a "wake up call" for the entire industry as the giant company tallies up its losses and disclosed two investigations. The new CEO also stresses operational safety as his highest priorities.
Bob Dudley, Incoming BP CEO, said, "It is important for BP with what I think is an unprecedented corporate response to follow through. Now that the oil has been capped, we still have work to make sure the beaches are clean, remain clean, and we begin the restoration. That is in the best long-term strategy for BP for it to do business in the United States."
Bob Dudley will replace Tony Hayward as Chief Executive on the 1st of October. He is the first American to lead BP which is trying hard to refurbish its battered reputation. But analysts say the image repair may become tougher after BP said it would offset the cost of the spill against its taxes, costing US taxpayers almost 10 billion dollars. As of Tuesday, the oil giant has reported a second-quarter loss of 17 billion dollars, including 32 billion dollars in charges related to the oil spill. It has also announced plans to sell 30 billion dollars in assets over the next 18 months to help cover its liabilities.
Editor:Du Xiaodan |Source: CNTV