Watch Video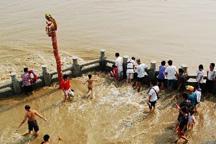 Play Video
Wuhan, capital of central China's Hubei Province, is bracing itself, as flood peaks of the Yangtze and Hanjiang rivers are expected to simultaneously converge on the city some time between Thursday and Friday.
Efforts are underway to try to prevent flooding and ensure potential damage is minimized as the surging water passes through the city. Yang Weihan has more.
More than 30,000 soldiers, emergency workers and residents are guarding dikes along riverbanks in Wuhan, ready to fix any breaches.
It is rare for the flood peaks of the Yangtze and the Hanjiang to arrive in the city at the same time.
The water level of Hanjiang River is expected to surpass the 30-meter mark, the highest in two decades, while the Yangtze is forecast to rise above the danger limit to 27 meters.
Wuhan has a population of around 9.1 million and is a major transport and economic hub in central China. It is the latest city at the frontline of China's battle against the devastating floods this summer.
If the workers' efforts fail, any breaches of the river dikes would leave tens of thousands of people in danger.
About 25,000 residents in Wuhan have already been evacuated.
Officials at the Three Gorges Dam on the Yangtze River said that if necessary, they would release less flood water to help Wuhan cope with the flood peaks.
But authorities have so far withheld an order to open flood gates to divert water from the swollen Hanjiang River, to a 600 square kilometer emergency reservoir that stretches from Xiantao to southeast Wuhan.
Officials are confident that a worst-case scenario can be avoided, adding that flood control systems are currently working well.
Fortunately, no major rains are forecasted in the next few days.
Editor:Zhang Jingya |Source: CNTV.cn