Watch Video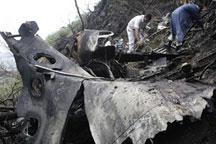 Play Video
Pakistan's information minister says the black box from a crashed passenger plane has been recovered from the scene. The plane crashed into hills surrounding the capital Islamabad in poor weather.
115 bodies have so far been recovered out of a total of 152 dead. It's the worst aviation accident on the Pakistani soil.
The Pakistani information minister announced the recovery of the black box as he spoke outside the Institute of Medical Science Hospital in Islamabad.
Qamar Zaman Kaira, Pakistani information minister, said, "The black box will be read and we will find out about the conversation with the air traffic terminal. The experts should then be able to determine what happened."
The cause of the crash of the Airbus 321 is still not clear.
The plane,belonging to Airblue-- a local private airliner left the southern city of Karachi for a two-hour flight to Islamabad. It tried to land in difficult weather.
According to the company, the plane was less than eight years old, and had no known technical issues.
A company official said that, to his knowledge, the pilots had not sent any emergency signals.
Pakistan's Airline Pilot Association says the plane appeared to have strayed off course, possibly because of the poor weather.
While thick fog and rainy weather are thought the most likely reasons for the crash, sabotage is not being ruled out. Pakistan says all possibilities will be investigated.
Related stories