Watch Video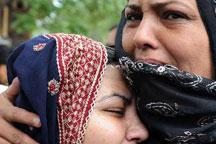 Play Video
The tragic plane crash in Pakistan, which killed more than a hundred and fifty people, has changed the lives of families who lost their loved ones, bringing much pain to them.
Abdul Ghani is overwhelmed with grief. The Seventy-year-old is struggling to come to terms with the news that his son and his son's family were among those who perished in Pakistan's worst ever air disaster.
His son Rizwan Ghani set off for Islamabad on Wednesday morning with his wife, two young sons and his daughter.
They were planning to spend a few days at Murree, a hill station and summer tourist resort.
Abdul Ghani, Relative of Victims, said, "He came to say goodbye before he left and I told him that the weather was quite bad, it had been raining and Murree's weather would be rather bad. He told me that he had to go because the children were insisting they go on vacation."
Afshan, Relative of Victims, said, "She saw me off and how would I know that was the last time. How would we know she would be gone forever and would not come back."
Relatives have been paying their respects to the deceased and comforting those who are grieving. But for the Ghani family, as well as many others who have lost loved ones in the tragedy,the pain will always remain in their hearts.
Related stories