Watch Video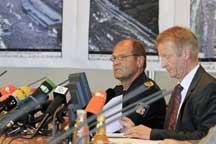 Play Video
German public security officials say organizers are to blame for the death of 21 people in a stampede at the Love Parade music festival last weekend.
Police say security planning at the event failed. They say local officials ignored warnings that Duisburg, with a population of only 500 thousand, would be too small to host one million people at the Parade.
Dieter Wehe, State Police Inspector, North-Rhine Westphalia, said, "Only around the bottom of the stairs did the pressure increase so much that people were killed. The 14 people who were immediately killed were found in that area. There were no dead in the tunnels. The investigation so far indicates that all the dead suffocated in the crowd. Police investigations so far indicate there were different motives: some people tried to escape from pressure, while others still wanted to get into the festival grounds."
The stampede occurred when hundreds of young people pushed through a tunnel into the festival area at a former freight rail yard in Duisburg. Local police have so far confirmed the death of 21 people and the injury of more than 500 others.
Meanwhile, it has emerged that some people posted concerns on the Internet, before the accident, warning the site was too small to stage such a large festival. Some posts predict the possibility of crowd problems and casualties. A memorial service for the victims will be held on Saturday.
Editor:Zhang Pengfei |Source: CNTV.CN