Watch Video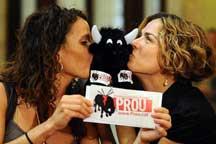 Play Video
Lawmakers in the autonomous Catalonian region of Spain, have outlawed bullfighting. The historic vote by the Catalan parliament makes it the first major region in the country to ban the centuries-old tradition.
Cheers broke out, as the ban was passed by 68 votes to 55, with nine abstentions. It will take effect in 2012.
The result is likely to energize animal rights groups' efforts in seeking a ban across Spain. However, the center-right Popular Party says it will fight the ban.
It wants the Spanish Parliament to give bullfighting protected status, that will bar regional governments from outlawing it.