Watch Video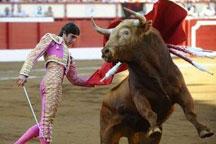 Play Video
The ban on bullfighting in Catalonia is a huge boost for animal rights activists. But it's not such good news for the bullfighters themselves.
Bullfighting schools in the region now face closure. And many think that if the ban is adopted by other regions, it could hurt the country's economy as a whole.
These young men are practicing their passion - bullfighting.
But soon it will no longer be possible.
Bullfighting schools in Catalonia now face closure after the regional parliament voted to ban the centuries-old sport.
Lawmakers cited the declining popularity of bullfighting in Spain - while animal rights activists say it constitutes cruelty to animals.
But one professional bullfighter - who could lose his job in a country where unemployment is already at 20 per cent - says the vote was based purely on political opinions.
Profesional Bullfighter, said, "Sadly here they don't care enough about the bulls. They've demonstrated that. They only thing they care about is independence from Spain. It's a purely political decision. They want to separate themselves from everything that has Spanish ties. Bullfighting to them sounds Spanish and just as they have done with other things they want to ban bullfighting."
Bullfighting supporters have argued that stopping the sport could further damage Spain's already failing economy.
A recent report said that 100 million euros was spent buying tickets for bullfights every year in France and Spain.
It predicted extra unemployment costs for Catalonia's government once bullrings were shut.
The bullfighting industry also includes the manufacturing of the elaborate matador suits, as well as specialized breeding of bulls.
A single fighting bull can cost up to 10,000 euros.
Bullfighting students protesting the against the ban in Barcelona said they were upset their careers had ended before they'd even started.
Bullfighting students, said, "I feel let down. The politicians can decide this sort of thing for you. It's always existed and the politicians take this away. And as a bullfighter it's sad I can't fight in my homeland which I was prepared to do and to succeed. When I'm about to achieve my dream they come and take it away from me."
The Catalonia ban is due to come into effect in 2012 - and it may not end there.
Animal rights activists have pledged to spread the ban throughout the country.
Editor:Zhang Pengfei |Source: CNTV.CN