Watch Video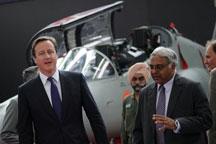 Play Video
British Prime Minister David Cameron is in India for a two-day state visit. He has signed a 1.1 billion US dollar aircraft deal to supply Hawk Jets to the Indian Air Force and Indian Navy. He is also expected to hold bilateral talks with his Indian counterpart, Manmohan Singh.
Cameron was given a ceremonial welcome in the forecourt of the Presidential Palace in New Delhi.
During his talks with Manmohan Singh, the two leaders are expected to sign a cultural agreement and seal a number of trade deals. Cameron is also expected to ask India to reduce its trade barriers.
Singh is expected to raise concerns about British efforts to stem Indian immigration and insist that India maintains a role in nearby Afghanistan.
British Prime Minister David Cameron said, "We are going to be looking at all the aspects of the relationship, from business and commerce, industry but also cultural exchange, looking forward to the Commonwealth Games."
Cameron then paid homage at the mausoleum of Indian freedom icon Mahatma
Earlier, Cameron visited the southern city of Bangalore. He met officials from the Indian company Hindustan Aeronautics Limited and British company BAE Systems, signing a 1.1 billion US dollars agreement for India to buy 57 Hawk advanced trainer jets from Britain.
Guy Griffiths, Group MD of BAE System, said, "The prime contractor is Hindustan Aeronautics Limited and BAE Systems is the main supplier to HAL, supplying the design and also the equipment which will be assembled here by HAL personnel over the course of the next three or four years."
Cameron's visit is focusing on business ties, climate change and increased security cooperation between the two nations.
He has brought six government ministers, 50 British business leaders, Olympic gold medalists and academics on the trip, one of the largest-ever UK trade delegations.
Editor:Zhang Ning |Source: CNTV