Watch Video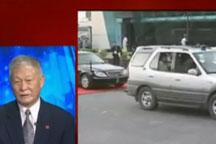 Play Video
British Prime Minister David Cameron is in India for a two-day state visit. He has signed a 1.1 billion US dollar aircraft deal to supply Hawk Jets to the Indian Air Force and Indian Navy. He is also expected to hold bilateral talks with his Indian counterpart, Manmohan Singh. Full Story>>
For more analysis into Cameron's first visit to India and overall India-UK ties, we are now joined in the studio by our current affairs commentator, Mr. Tsang Yingnien.
Question 1: Mr. Tsang, to show the importance of his first visit to India, Cameron has brought a large delegation of cabinet ministers, business leaders and Olympic champions. Closer economic cooperation is one of his primary objectives on the visit. We know India is a rising regional power and an important emerging market. How will closer ties with India boost Britain's economic recovery?
Question 2: Defense cooperation is also a prominent area. India has signed a deal to buy 57 advanced jet trainers from Britain. Given the fact that India is determined to replace its largely Soviet-era defense system, more such deals can be expected. Aside from such arms deals, what other areas are there for defense cooperation? Do they have a coordinated stance on regional issues, like Afghanistan?
Editor:Zhang Ning |Source: CNTV