Watch Video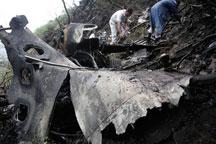 Play Video
152 people are now confirmed to have died in the Pakistani passenger plane crash near Islamabad. Pakistan's Information Minister says 115 bodies have been recovered. Investigators are looking for clues to the cause of the disaster.
Recovery continues in the hills above Islamabad.
The country's Information Minister says bad weather and difficult terrain are hampering the work efforts.
Pakistani Information Minister Qamar Zaman Kaira said, "Helicopters were called for the rescue work. At first we called in big helicopters so that evacuation could take place on a larger scale but conditions were so difficult that we had to call in smaller helicopters."
He says there were no survivors and 115 bodies have now been recovered.
DNA tests are needed to identify the victims and the minister is asking for patience from family members.
Rescuers say they had to dig through the rubble with their bare hands, with fire and thick smoke hampering their work.
Thick fog and rain are considered the most likely reasons for the crash, but the investigation is still underway.
Distraught family members arrived in Islamabad late on Wednesday to identify the bodies of their relatives.
A relative of crash victim who lost 8 family members said, "It is nobody's fault. It was Allah's will. I had eight people on the plane."
Pakistan's Prime Minister declared Thursday a national day of mourning and ordered flags to fly at half-staff.
Editor:Zhang Ning |Source: CNTV