Watch Video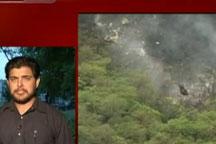 Play Video
152 people are now confirmed to have died in the Pakistani passenger plane crash near Islamabad. Pakistan's Information Minister says 115 bodies have been recovered. Investigators are looking for clues to the cause of the disaster. Full Story>>
Our correspondent Danial Khan in Islamabad brings us the latest update on the plane crash.
Q1: Heavy rain has hampered work at the crash site. How are the conditions now?
Q2: There's speculation bad weather could have been the cause of the accident, is there any official word on this?
Q3: There have been contradictory reports about whether the black box was recovered. It was said to have been found, but later the Pakistani Information Minister denied this. Is there an update on the fate of the flight recorder?
Q4: How is the identification of victims proceeding? Are there any difficulties?
Q5: How are victims' relatives coping with the loss of family members?
Editor:Zhang Ning |Source: CNTV