Watch Video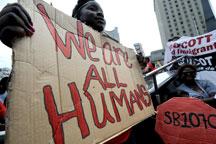 Play Video
Protestors have converged on the US city of Phoenix, as Arizona's state government seeks to get a federal court blocking order on most its new immigration controls lifted.
50 people have been arrested, during mainly peaceful rallies. Many were taken away after they approached riot police, and then sat down refusing to move. On Wednesday, a federal judge blocked the most controversial parts of Arizona's new law. They include provisions that would require immigrants to carry their papers at all times, and would allow officers to make warrantless arrests.
Protesters who support the block called the federal court ruling "a moment of hope," but insist the battle is far from over. Arizona has one of the highest concentrations of illegal immigrants in the US, with over 400,000 undocumented residents. It is the first state to enact tough new immigration measures.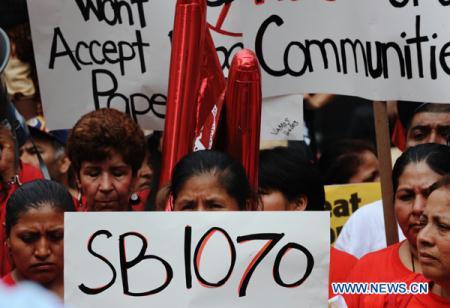 Protestors against the Arizona's controversial Senate Bill 1070 immigration
law attend a rally in New York, the United States, July 29, 2010. The
immigration law takes effect in Arizona on Thursday with some key portions
blocked by a federal judge.(Xinhua/Shen Hong)
Related stories