Watch Video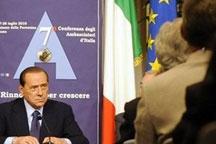 Play Video
Italy's lower house voted yes to a huge austerity package on Thursday. The measures will cut spending across many sectors, and there is also to be a crack down on tax evasion. But there are still voices of criticism coming from within the parliament. The story comes courtesy of Reuters.
Italy's government has agreed on a 25 billion euro package of austerity measures to bring the country's economy back to life.
The lower house approved the measures after the government won a confidence motion a day earlier.
The package is aimed at boosting Italy's strained public finances.
It will cut spending, freeze pay for many public sector workers and includes a crack down on tax evasion. The country's Defence Minister welcomed the move.
Ignazio La Russa, Italian Defence Minister, said, "I think that Italy made a crucial step towards stability and an ability to resist an economic crisis for which we are not responsible. I think the government worked quite well, and the Parliament even better."
But the centre-left opposition has criticised the package.They say it hits workers and spares the rich.
Antonio Di Pietro, Italia DEI Valori Party, said, "The people paying the consequences are the Italian people. They act like they are about to go to a showdown, behind the back of the Italian citizens, but what's sad is that the Parliament has been deprived of any authority by their conspiratorial way of governing, running the country exactly like Saddam Hussein did, thinking that everything was fine."
Prime Minister Silvio Berlusconi will be hoping for some relief for his government which has recently been engulfed by a wave of scandals.
Two ministers and a junior minister have already been forced to step down and some of his close associates have become involved in a judicial investigation into influence-peddling.
Editor:Zheng Limin |Source: CNTV.cn