Watch Video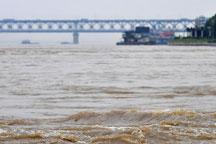 Play Video
Now let's take a look at the latest on the flood situation that China is facing. The rainy season is continuing to swell rivers, lakes and reservoirs throughout the country.
The Office of State Flood Control and Drought Relief Headquarters has issued new reports on the flood situation in Jilin province, the Three Gorges Dam Reservoir area and Xinjiang Uygur Autonomous Region.
Heavy flooding is affecting the Songhua River in Jilin province where two reservoirs have collapsed. The Three Gorges Dam Reservoir has registered record high water levels although levels on the upper reaches of the Yangtze River are now falling significantly.
Levels in the lower reaches of the river are still rising. Two reservoirs in Xinjiang have collapsed due to flooding.
As of Friday, 991 people have been killed by flooding across the country, with more than 500 people missing. More than 130 million people have been affected by the severe weather and economic losses exceed 190 billion yuan.
Related stories
Editor:Zhang Pengfei |Source: CNTV.CN