Watch Video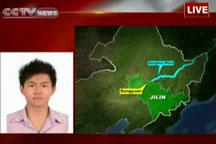 Play Video
We now turn to the latest on the recovery of thousands of barrels filled with chemicals, that were swept into the Songhua River in Northeast China's Jilin Province.
So far nearly 3-thousand containers have been recovered. Emergency teams set up blocking belts along the river to hold up the rest of the barrels.
The water quality of the river has been found to be safe. Officials say the possibility of contamination is slim.
Our reporter Wang Guan is tracking this story for us.
Related stories