Watch Video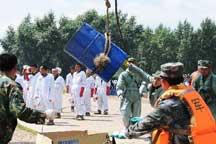 Play Video
Rescuers have recovered up to 37-hundred barrels that could contain chemicals from Northeast China's Songhua River.
Between late Tuesday and Wednesday, flash floods swept about seven thousand barrels into the Wende River in Jilin Province. Three-thousand are full of chemicals while the rest are empty.
The barrels later flowed in the Songhua River. Recovery stations were set up along the River in Jilin Province and rescuers have been retrieving the barrels. Heilongjiang has set up its own recovery and retrieval plans if the barrels flow into the Province.
The Songhua River joins the Heilongjiang River which eventually flows into Russia. Russian environmental watchdogs have begun their own 24 hour monitoring of the water quality. If they are not retrieved in China, the barrels could reach Russia in about two weeks.
Related stories
Editor:Zhang Pengfei |Source: CNTV.CN