Watch Video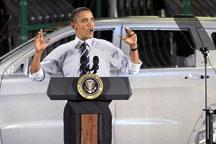 Play Video
A year after the US government's auto-industry bailouts, President Barack Obama has hailed increased car sales as a beacon of success in his battle to revive an ailing US economy. But his upbeat assessment can't mask daunting challenges for U.S. automakers and painfully high unemployment.
For a president whose economic policies have been questioned from the start by Congressional Republicans, Friday was a day for Barack Obama to essentially say to his critics - "I told you so."
During a visit to the Chrysler assembly plant in Detroit, the President argued that had the U.S. government not invested more than $60 billion into General Motors and Chrysler, more than a million jobs would have been lost.
Barack Obama, US President, said, "Today, for the first time since 2004, all three automakers are operating at a profit - for the first time in 6 years."
Michigan still has an unemployment rate of 13.1 percent - the highest in the country. But the President told hundreds of assembly workers that this government bailout not only worked, it saved an entire industry.
Barack Obama, US President, said, "Our strategy was to get this company and this industry back on its feet - taking a hands-off approach- saying you guys know the business, we don't. We're gonna give you a chance, but we do know you've got to change."
Despite the profitable first quarters from GM, Ford and Chrysler, Chrysler still has significant loans to repay and the value of the government's stake in GM is still unknown.
Barack Obama, US President, said, "We've got a long way to go but we're beginning to see some of these tough decisions pay off. We are moving forward. I want you to remember though, if some folks had their way, none of this would have been happening."
It's an argument the President made to workers he met on the production line and will continue to make next week at a Ford Plant in Chicago.
Editor:Zhang Pengfei |Source: CNTV.CN