Watch Video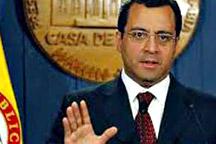 Play Video
Colombia has denied charges by Venezuelan President Hugo Chavez that the country is preparing a military attack, calling the claims "political deceit."
Cesar Mauricio Velasquez, Colombia's presidential spokesman, said, "Colombia has never thought of attacking our brothers in Venezuela. Colombia has accessed the channels of international law, and will continue insisting on those mechanisms. Our nation will adopt an instrument to make the Venezuelan government comply with its obligation not to shelter Colombian terrorists."
The Colombian Presidential Spokesman's comments come one day after Chavez said he had deployed military units to repel a possible attack. Colombia accused Venezuela of harboring Colombian leftist rebels last week. Chavez denies that his government supports the rebels, and says he can't take sides in his neighboring country's internal conflict.
Editor:Yang Jie |Source: CNTV.CN