Watch Video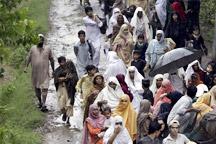 Play Video
At least 900 people have been killed in severe flooding that has hit northwest Pakistan. Transport networks have also been seriously damaged. The local weather forecast predicts the monsoon rains will continue over the next few days, hampering the rescue operation. Pakistani authorities say the death toll is likely to rise.
272 Chinese workers trapped by flood waters in northwest Pakistan have been rescued. Another 3 are still missing. Pakistan dispatched two helicopters to search for the missing staff. The workers are employees of a Chinese company responsible for a local hydropower project under construction.
Three days of heavy monsoon rains have taken their toll on northwest Pakistan.
In the hardest-hit Khyber-Pakhtunkhwa province, hundreds of thousands of villagers have been isolated, scores of river banks have burst, and 60 bridges destroyed.
The fierce flooding also inundated massive swaths of agricultural lands.
Residents waded through deep water as rescue workers used loudspeakers to urge them to evacuate homes in low-lying areas.
On Friday, Pakistani Prime Minister Syed Yousaf Gilani surveyed the flood affected areas in northwest Pakistan. The Disaster Management Authority also ordered intensified rescue efforts.
The Pakistani army, which is leading the rescue and relief activity, says they are ready to deliver more relief goods.
The National Disaster Management Authority has called on the United Nations and the international community to help combat the country's worst flood in 81 years.
UN officials say they are looking at ways to help the flood-hit region, but it is still hard to assess the damage because many roads are unpassable due to the floods.
Related stories
Editor:Yang Jie |Source: CNTV.CN