Watch Video
Play Video
Chinese Foreign Minister Yang Jiechi discussed bilateral cooperation and international affairs Sunday, in a meeting with Cuban President Raul Castro.
Yang says that in the face of many tests during the past five decades and constant changes in an often volatile world, China-Cuba relations, remain friendly and cooperative, bringing mutual benefits to both countries.
This year, marks the 50th anniversary of diplomatic relations. Yang says both sides, should seize this opportunity, to promote bilateral exchange and cooperation in various fields. Yang, arrived in Cuba on Friday for a three-day official visit. Later on Sunday, he flew to Costa Rica to continue his tour of the Caribbean and Latin America.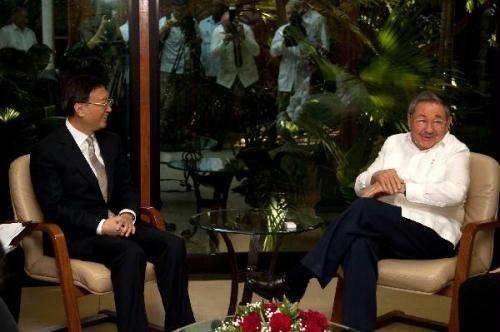 Cuba's leader Raul Castro (R) meets with visiting Chinese Foreign Minister Yang Jiechi
in Havana, capital of Cuba, Aug. 1, 2010.(Xinhua/Wang Pei)