Watch Video
Play Video
The worst floods to hit Pakistan since 1929 have left roughly one million people in need of emergency assistance. The death toll in the northwestern region has climbed to 14-hundred, and rescue workers are struggling to save more than 30-thousand individuals still trapped by the raging water.
The United Nations estimates that one million people across Pakistan have been affected by the worst floods there in 81 years. Aid agencies add that more than 500,000 individuals have been affected in the country's northwest, with women and children facing the greatest risks.
Relief camps have been set up in schools and community centers by a number of organizations, but many villagers waiting in those locations say they've already exhausted their food and drinking water supplies, and have no clothes for their children.
A flood victim said, "We've lost everything. We couldn't save anything. We have no shoes, even for the children. No clothes -- the children are naked. When the children cry for food, these people say it will be provided according to a time schedule. We only want shoes and clothes, nothing else."
A number of nations and humanitarian groups have started mobilizing a response to the disaster.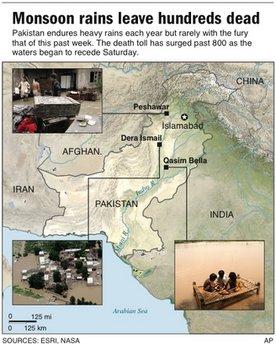 Map locates major floods in Pakistan and
includes photos.
An aid worker of Welfare for Humanity, said, "We're providing cooked food for people. So far, we've distributed 100 large pots of cooked food. We're distributing food at homes and in the streets, in the houses which are destroyed, and where women and children are stuck. And to all those who are homeless, we're also giving them food."
Pakistani authorities have deployed 43 military helicopters, and more than 100 boats, to rescue individuals still trapped by the floods.
30-thousand government troops have been sent to the disaster areas, where they've already helped save more than 20-thousand people.
Related stories