Watch Video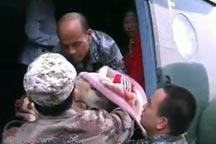 Play Video
The evacuation of people stranded by floods in northwest China's Xinjiang Uygur Autonomous Region is coming to an end. More than 400 individuals were successfully removed from the waterlogged areas in Kuqa County on Sunday 166 of them by military helicopters. The total number of evacuated people in the last two days, now stands at nearly 950.
About 700 people had been trapped by floods at a tourist resort near Tianshan Mountain, in Kuqa County.
Severe weather conditions had delayed the airborne evacuation.
The first military helicopter finally reached the group to carry out the evacuation, three days after raging flood water gushed into the location.
Rescued tourist of Kuqa County said, "We came here for a tour on Tuesday. Little did we know that it would suddenly rain, leading to floods. The roads were damaged, and we were trapped. We thank the government and the army for sending a helicopter to save us."
In addition to tourists, the ranks of the stranded also included local residents and construction workers. Most are ethnic Uygurs.
All were transferred to safer places by late Sunday evening.
Kuqa County official Guo Jianmin said, "We evacuated senior citizens and children first, as well as local shepherds. We sent them to safe places where there are medical and transport services."
Avalanches and landslides triggered by recent downpours and melting snow have inundated roads and cut off telecommunications in the area since Thursday.
Military helicopters had delivered relief goods to the trapped contingent. Early on Friday, rescuers on the ground managed to reach the site.
Emergency workers are still combing the mountainous terrain to make sure there are no victims left behind.
Editor:Zhang Ning |Source: CNTV