Watch Video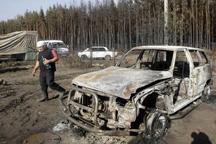 Play Video
Russia's Emergencies Ministry says half the fires raging across the country are now under control. The total territory ablaze has shrank to about 128-thousand hectares. At least 28 people have died in the infernos over the past few days.
The Ministry adds that some 320 new fires broke out on Sunday, but 210 have been extinguished. Officials also say the threat of new blazes has increased sharply, due to unfavorable weather in the Central and Volga federal districts, with temperatures soaring to as high as 40 degrees Celsius, while wind speeds approach 20 meters per second.
Around 240-thousand individuals have been battling the flames. Army units, including elite paratroops, are also taking part in the fight. Prime Minister Vladimir Putin has ordered the government to allocate 165 million US dollars to assist victims.
Russian Prime Minister Vladimir Putin (R) speaks with local
residents who lost their homes while touring the scene of fire
damage near Nizhny Novgorod on July 30. Putin promised on television
on Saturday that all the houses would be rebuilt by October, after
allocating five billion rubles (165 million dollars).(AFP/RIA/File/
Alexey Druzhinin)