Watch Video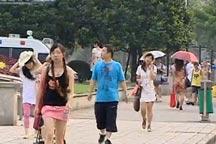 Play Video
August has begun with contrasting weather conditions in Northern and Southern China. Rainfall has cooled temperatures in the North, while a heat wave in the south is expected to last for days.
Residents in Beijing have been suffering from sweltering weather since late July. Weather forecasts had expected rainfall on Saturday. But most of Beijing saw little rain. Metereological services say rainfall did come, but didn't reach the heart of the city.
Sun Jisong, Beijing Meteorological Station, said, "Most of the rain fell at mountainous areas in northern suburbs. The cold air was not as strong as we expected. That caused little rain in the city."
Shanghai recorded its 11th hot day on Saturday, as temperatures topped 37 degrees Celsius. The mercury is expected to hit 38 degrees Celsius on Sunday. And weather forecasts expect the heat wave to continue for another 4 days.
In Shenzhen, a new round of high temperatures has led to hot weather alerts by authorities. With temperatures expected to rise in the coming days, experts are warning of heatstroke, particularly for those working outdoors.
A construction worker said, "We sweat a lot everyday. But we've been given drinks, soups and towels. And we don't work when it's too hot."
Other parts of southern China are also seeing high temperatures. Sichuan province, known for its mild summers, is enduring unusually hot weather.
Editor:Zhang Ning |Source: CNTV