Watch Video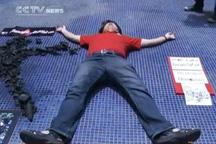 Play Video
Thailand's deputy Prime Minister is urging security personnel and intelligence agencies, to increase their efforts to track down groups behind recent violence in the capital.
Earlier in the week, the Thai government had said, the State of Emergency in Bangkok would NOT be lifted for the foreseeable future. Nonetheless, the Red Shirt protestors who battled the authorities, on the streets of the capital in May, are now starting to emerge once again.
A lone Red Shirt, a demonstration in defiance of Bangkok's State of Emergency, representing the protestors who died on the streets.
The group "Red Sunday" has called a meeting, flouting the emergency decree, which forbids gatherings of more than five people. But they remain openly defiant.
"I'm not worried at all. If they do arrest us it just proves the government has double standards, because they let the yellow shirts gather."
Nonetheless, the political situation has taken a dangerous turn.
Two bombings in the past week have left one dead and more than ten injured.
The uncertain peace after the Red Shirt protests were dispersed, now seems to be broken. It's also been a difficult time for Puea Thai, the political party closely allied to the reds.
They suffered defeat in a key by election seen as the first electoral test since the crackdown. Their candidate, also awaiting trial on terrorism charges, had to run the campaign from his jail cell.
At Party headquarters, the weekly press conference doesn't draw a lot of attention. Allegations of corruption made against the government have had little effect in the last 2 months, and with Parliament reconvening they face an uphill battle to challenge to governing coalition.
Prompong Nopparit, Puea Thai Spokesman, said, P"We think the by election shows there is still a lot of support for our Party, even under the emergency conditions, and if there was a general election, we would win."
And there remains a considerable reserve of support. As Sunday evening approaches, more Reds begin to gather. All under the gaze of the authorities, but they seemed prepared to stand and watch, rather than intervene.
Tony Cheng, Bangkok, Thailand, said, "There are now about 500 Red Shirt protesters here at Democracy Monument, they've been coming in from all directions over the course of the last hourand they're completely surrounded by riot police so its unlikely anything will get out of hand. Nonetheless every week that passes since the crackdown, more and more red shirts are coming out keen to test the government, and the State of Emergency."
And then on the dot of 6 PM a defiant rendition of the national anthem. And then the demonstrators fell to the ground in honor of those who had already fallen. But while they may be down, the message from the reds is that they're still prepared for a fight.
Related stories
Editor:Zhang Jingya |Source: CNTV.cn