Watch Video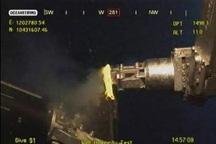 Play Video
A key two-step procedure to seal BP's leaking Gulf of Mexico well could begin late on Monday. A top US oil spill official highlighted the "static kill" procedure, which pumps heavy mud and cement into the top of the rig.
Retired Coast Guard Admiral Thad Allen said on Sunday that he will travel to the fuel company's Houston headquarters to oversee the operation. Engineers are expected to know whether the procedure has worked within hours.
The well has been temporarily sealed for more than two weeks.
But the "bottom kill" maneuver, which pumps mud and cement through a relief well into the underside of the rig's reservoir, will seal the well once and for all. The "bottom kill" could begin 5 to 7 days after the "static kill" is finished.
Editor:Zhang Jingya |Source: CNTV.cn