Watch Video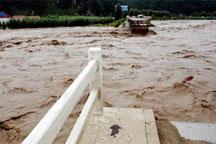 Play Video
The worst flooding in a decade continues in parts of China. After hitting large swaths of central and southern China, heavy rains are now triggering floods in the Northeast. Jilin and Liaoning are the latest provinces to be hit by flood fatalities.
Several rivers in Liaoning Province are reporting water levels above the alert line. Among them, Hunhe River saw its peak flow this year over the weekend. But authorities say the flow has passed major hydroelectric stations, causing no further danger.
Torrential rains hit Jilin's Yongji County last Wednesday. The flood left layers of silt. And high temperatures after the rainy days have added to the mess. While traffic, water and the power supply are recovering, more and more people are joining in the clearing work.
Cao Jiangeng, Commander of PLA Airforce,said, "Some residents' belongings were buried under the silt. It's really hard to reach them. We use our hands when shovels won't do. That has lasted for almost an hour."
In Huadian City, 11 villages have suffered great losses from the floods. Over 400 houses collapsed, roads were destroyed, and communication completely cut. The city is in badly need of daily necessities for its residents. Relief goods from Jilin City reached Huadian on Sunday.
A local government official said, "We are now counting and sorting the goods out. They'll reach the people in hours."
Meanwhile heavy rains have damaged 4 water pipelines in Tonghua, cutting the water supply to the whole city. 300 thousand people are now without tap water. The city's public utility bureau has mobilized 300 workers to repair the pipelines, hoping to resume supply in 3 days. City authorities are working to ensure adequate supply and stable price of bottled water and food.Weather services expect a new round of rain in Jilin province around Wednesday, particularly in the central and southern parts.
Editor:Zhang Ning |Source: CNTV