Watch Video
Play Video
Chinese Foreign Minister, Yang Jiechi, has met with former Cuban President Fidel Castro in Havana.
Cuban State Television released pictures of the meeting which comes a day after the two countries signed bilateral accords to strengthen cooperation. With Yang at his side, Castro signed the Chinese edition of his biography, "One Hundred Hours with Fidel."
Earlier in the day, Yang Jiechi also met with Cuban President Raul Castro. The Chinese Foreign Minister then travelled to Costa Rica and met with its president Laura Chinchilla, as he wrapped up his Latin American tour on Sunday.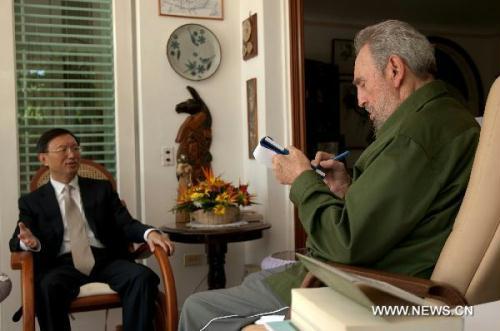 Chinese Foreign Minister Yang Jiechi (L) talks with Fidel Castro, first secretary
of the Cuban Communist Party's Central Committee, in Havana, capital of Cuba, on
Aug. 1, 2010.(Xinhua Photo)