Watch Video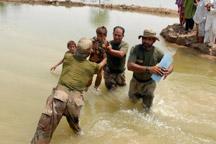 Play Video
Devastating floods in Pakistan have killed more than 14-hundred people. The government has appealed to the international community for help to deal with the catastrophic floods. Rescue workers are struggling to reach thousands who are stranded in far-flung villages.
It's been Pakistan's worst flood on record.
Heavy monsoon rains have ravaged the country's northwest for the past week.
As flood waters began to recede, the true extent of the damage started to show.
Children are left to play with floating debris in flood waters.
Local residents return home to salvage what ever possessions they can find. But all that remains is damaged furniture and remnants of their home. Even sacks of spoiled wheat were a welcomed blessing for those who have lost everything.
Marjan Khan, Villager, said, "We are cleaning our remaining wheat which is almost spoiled. We have nothing, we are just depending on the mercy of God, nothing left except this wet wheat."
Meanwhile, some residents were lucky enough to escape the floods, taking refuge in a school.
Habib Gul, Villager, said, "We are getting cooked rice, power and water, we have all the facilities. By the grace of God we are getting everything here, we don't have any problems."
But the majority of Pakistanis are suffering from unending hardship.
Pakistan's Chief of Army Staff, General Ashfaq Parvez Kayani, has visited flood affected areas, calling for rescue and relief efforts.
Authorities are struggling to save more than 27-thousand people still trapped by the floods. So far, more than 20-thousand people have been rescued. But thousands remain in remote areas where rescuers have not been able to access.
The United Nations, China and the United States are providing emergency assistance in the form of aid and other support.
Related stories
Editor:Yang Jie |Source: CNTV.CN