Watch Video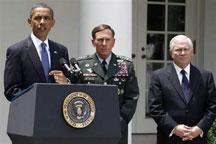 Play Video
US President Barack Obama is vowing to make good on his promise to end US combat operations in Iraq by the end of August.
His comments come despite a dangerous political deadlock in Baghdad and a surge in militant violence last month.
Barack Obama, US President, said, "Now these are dangerous tasks. There are still those with bombs and bullets who will try to stop Iraq's progress, and the hard truth is we have not seen the end of American sacrifice in Iraq, but make no mistake, our commitment in Iraq is changing, from a military effort led by our troops to a civilian effort led by our diplomats, and as we mark the end of America's combat mission in Iraq, a grateful America must pay tribute to all who served there."
The main focus of Obama's appearance was the move towards fulfilling his campaign promise to end the Iraq war, ahead of the November congressional elections.
It's there the White House wants to highlight the progress as a success story. A transitional force of 50-thousand troops will remain to train Iraqi security forces, conduct counter terrorism operations and provide security for ongoing US civilian efforts.
Under an agreement negotiated in 2008, all American troops should be gone from Iraq by the end of next year.
Related stories
Editor:Zhang Pengfei |Source: CNTV.CN