Watch Video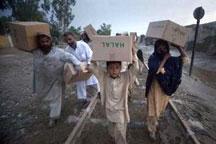 Play Video
From floods in China to floods in Pakistan, the worst floods in the country's history are to blame for killing more than 14-hundred people.
Emergency relief assistance has been boosted. Medical teams have been dispatched to prevent epidemics, while rescue workers try to relocate residents.
It's been Pakistan's worst flood on record.
As the flood waters begin to recede, the true extent of the damage is only just starting to show.
In Charsada, Khyber-Pakhtoonkhwa province, Children play with floating debris in the flood waters.
Local residents return home to salvage what ever possessions they can find...
But all that remains is damaged furniture and remnants of their home. Even sacks of spoiled wheat were a welcome blessing for those who have lost everything.
Some residents were lucky enough to escape the floods, taking refuge in a school.
But the majority of people in these flood hit regions of Pakistan are suffering unending hardship.
Now they face the threat of waterborne disease.
Doctors have set up a special flood ward to take care of victims, and to offer vaccinations.
Hamid Khattak, Doctor, Charsada District Hospital, said, "The water has become contaminated and there are chances of it spreading various diseases. People are already complaining of scabies. The majority of those affected are children."
Besides medical services, food, tents and other daily necessities are also being provided to victims in the flood-hit areas.
Colonel Qamar Khan, Officer of Pakistan Army, said, "At this time we are providing tents for flood affected people. We are providing food twice a day to those who lost everything in the flood. We have also established a medical camp and launched a boat service to bring people to safety."
Authorities are struggling to save more than 27-thousand people still trapped by the floods. And thousands more remain in remote areas that rescuers have been unable to access.
The United Nations, China and the U.S. are providing Pakistan with emergency assistance in the form of financial aid and logistical support.
Related stories
Editor:Zhang Pengfei |Source: CNTV.CN