Watch Video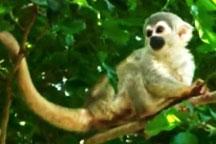 Play Video
Digital cameras are helping biologists in Ecuador with research efforts in dense forests. It helps them catch every detail of movements made by animals.
Camera technology is helping researchers in an Ecuadorian jungle.
Diego Mosquera and his team from the Tiputini Biodiversity Station in Yasuni National Park have hung 30 cameras in the dense forest.
They are equipped with heat and motion sensors which trigger the cameras when animals are close by - and they've already snapped around 30,000 images.
The park is home to thousands of species and covers almost two and a half million acres.
With so much ground to cover, the cameras are invaluable.
Diego Mosquera, Tiputini Biodivesity Station, said, "We have some of the first pictures ever taken of some of the birds of the Amazon that have never been photographed in their natural habitat. Few species we confirmed their presence in the rain forest. Another species we managed to get the first record of this species that it was thought extinct in Ecuador and the only record was in Peru, but now thanks to these cameras we recorded its presence in this forest."
U.S. biologist, Kelly Swing says the Yasuni jungle is a living treasure with thousands of new species just waiting to be discovered.
Kelly Swing, Biologist, said, "The research we're doing at Tiputini involves a lot of facets involved with ecology, fauna and flora of the Yasuni region, and of course of all those studies have resulted in us being able to document the fact that it is the most species diverse place on the planet."
And discoveries aren't just made on the jungle floors. The tops of the trees are rich in wildlife.
Platforms suspended 130 feet off the ground help researchers get in contact with species like this tree frog, which never touches the forest floor.
But this diversity is not without threats. Under the park are some 850 million barrels of oil.
Ecuador's government is trying to keep oil companies away, protecting the precious fauna and flora, but unless they succeed, the environmental loss of will be immeasurable.
Editor:Zhang Pengfei |Source: CNTV.CN