Watch Video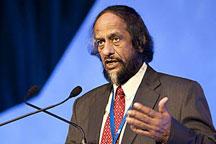 Play Video
The head of the U.N.'s panel of climate experts says a global treaty on cutting carbon emissions to slow global warming is essential this year.
He urged that agreements be reached at annual talks among the world's environment ministers, to be held in Cancun from November 29th to December 10th.
Rajendra Pachauri, chair of the Intergovernmental Panel on Climate Change, made the call in a lecture on climate change at the National Autonomous University in Mexico City.
Rajendra Pachauri, IPCC Chief, said, "If we want to limit temperature increase to about 2 degrees Celsius, 2 to 2.4 degrees, then we have estimated that global emissions will have to peak no later than 2015. That's what makes Cancun very important. I think it's absolutely essential that we get some agreement to bring about some tangible efforts for reducing emissions of greenhouse gases because we don't have the luxury of time if we want to limit temperature increase to around, say, two degrees Celsius. Now it doesn't mean that you can't do it later but if you do it later, it'll be much more complex and much more expensive."
Hopes for a global treaty on cutting carbon emissions were dealt a heavy blow last year when an international conference failed to agree on a legally binding mechanism.
More than 100 countries backed a nonbinding accord in Copenhagen to limit global warming to below 2 degrees Celsius above pre-industrial times, but it did not spell out how this should be achieved.
Related stories
Editor:Zhang Pengfei |Source: CNTV.CN