Watch Video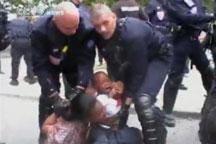 Play Video
A disturbing video showing French police roughly handling immigrants of African descent is causing uproar in France.
The video shows police dragging away women who were demonstrating against eviction from a block of flats where they were living.
A housing campaigner filmed the scenes on July 21st, which show a mother apparently being dragged on the floor with her baby on her back.
While another scene shows a pregnant woman lying apparently unconscious on the ground.
The website which posted the video, had almost 500-thousand hits by Sunday.
Police authorities issued a statement after the video was released saying police had used normal force for this kind of situation. They argued that policemen could not see the child on the back of his mother when she was pulled away.
A spokesman for an association which helps immigrants find accommodation says he was shocked when he first saw the film.
Jean-Baptiste Eyraud, Spokesman of the Right to a Roof Association, said, "The explanations by the local authorities are not satisfying. We need sanctions to be taken otherwise we can suppose that the police will continue brutal interventions."
Eyraud also said that the baby in the video is doing well but is still under medical observation after being traumatized by the event.