Watch Video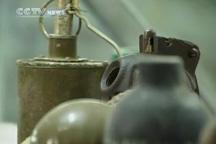 Play Video
Over the past three decades of conflict in Afghanistan, millions of land mines and unexploded ordnance have been scattered all over the country. Almost 90 percent of the devices are on agricultural land.
The landmines museum in the Afghan capital Kabul tell people about these explosive devices that can endanger their lives.
More than 60 thousand Afghans are victims of the landmines. During 30 years of conflict and civil war, more than 2 million explosive devices were planted across the country. Learning from the past experience, an Afghan de-miner has established the only landmine museum in Afghanistan and the region.
Fazil Karem Fazil, Museum Founder, said, "In 1994, when I and others worked at the UN in Hirat province, we found various kinds of mines. In the UN standards, the mines should be destroyed immediately when they are discovered. I asked myself, if we destroy the mines, what we will show for the next generation. What the Russian or the civil war our neighbor did Afghanistan. They supplied deadly weapon to kill the Afghan people."
The exhibited landmines show various types of landmine. They come in butterfly, trays and pressure cooker shape. The Afghan refugees are considered as main victims of the landmines. Some of them cross the neutral boarders between Afghanistan and Pakistan with the minimum information about the landmines.
Jamila Bahram, Landmine Civic Education Officer, said, "The Afghan Refugees live in countries that are not familiar with landmines. They don't have enough information about the landmines and never saw it. The refugees who are registered with the UN are trained and informed about the landmines that may explode when they cross the boarders. Most of the victims are the refugees who lack access to information about landmines."
Tamara Aqrabawe, Kabul, Afghanistan, said, "The museum has become an important travel site in Kabul. It houses 51 types of landmines including cluster bombs used during the US invasion of Afghanistan in 2001."
The museum doesn't tell the Afghans only about their history of war. It tells them about the Afghan children who had nothing to do with the war and need to be protected from the landmines.
Mohammad Arff, Operations Manager, said, "The child noticed the landmine which is in butterfly shape, he picked it from the ground and carried it in his hand. It exploded in his hand so he lost a few fingers and vision."
The Organization for Mine Clearance and Afghan Rehabilitation that runs the museum says the successful mine awareness campaigns have declined the landmine explosions from several hundred per month to around 60 incidents. The museum management says the landmines are the best warning for the Afghans to stop the conflict in the war-torn country.
Editor:Zhang Pengfei |Source: CNTV.CN