Watch Video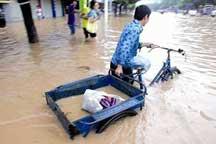 Play Video
Four days after the devastating floods in northeast China's Jilin province, nearly one million residents have been forced from their homes. Most have been relocated, but now they're wondering when their houses will be re-built.
Quietly observing his damaged house and wondering how the flood could be so fierce.
Zhang Shouye was working in the field when the flood came. His only comfort is his neighbors grabbed his daughter when they fled so the family are now safe, so at least they can still be grateful that they have each other.
Every one in five people are now like Zhang Shouye in Yongqing village, Antu county, where the majority of residents are ethnic Korean.
In this village, you see hard-working and hard-living Chinese farmers everywhere you turn. For many of of the villagers, the flood water washed away the things they have tried a lifetime to build.
Cu Naiqin, said, "It was too fast. The water increased some tens meters in a couple of hours. Finally I am convinced that I have to abandon flee my home. It all happened so fast that I only managed to take my big cow and my dog. I didn't even have time to take my chickens or other stuff in the house.nothing at all."
Although local authorities have put affected people like Cu Naiqin to stay in a factory dormitory. This is only an expedient measure and a first step. Rebuilding 90 percent of collapsed houses in a village is a daunting task for any local government.
The village chief said he realizes the grim situation and hopes provincial government can help.
Village chief, said, "We don't have the capability to rebuild all these homes on our own. This is the reality of the rural areas. We really can't built the houses. We are looking to prefectural and provincial government for help."
Reporter Wang Guan said, "For relief teams, time is not on their side. It takes at least three months to rebuilt a damaged house like this one but in two months from now, the temperature will drop below the freezing point. Meanwhile for those forced their homes, this is one of the biggest devastation ever, but life has to go on."
Life goes on in this factory dormitory-turned-relocation area.
Just take a look them some of them, you can hardly believe they just went through one of the worst moments in their lives.
Many residents told us they are grateful they have been put into this place since their houses were destroyed.
An affected villager said, "The government gave us the blankets yesterday and also the rice. Now we have enough to eat and to drink. If not for the dormitory, where could have have ended up? it should have been up in the mountains."
This place does not only give affected villagers enough to eat and a place to stay.
It gives them hope.
They hope they can start new life here before new structures will rise on the debris.
Related stories
Editor:Zhang Jingya |Source: CNTV.cn