Watch Video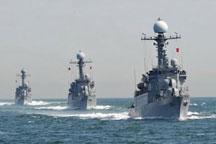 Play Video
South Korea says anti-submarine exercises slated for later this week will be carried out as planned.
Local media is quoting military officials who say the drills will be held from August 5th through August 9th in waters off the west coast of the divided Korean peninsula.
South Korea claims the drills are designed to improve its defence capabilities.
The announcement comes only days after Seoul and Washington staged large-scale joint air and naval drills in the waters east of the peninsula.
S. Korea dismisses DPRK warning against naval drills
SEOUL, Aug. 4 (Xinhua) -- South Korea's five-day naval drills set to begin on Thursday are of defensive nature, and finding faults with the drills taking place in South Korean waters can be regarded as a sort of provocation, a military official said Wednesday.
South Korea is poised to stage large-scale naval drills off the west coast of the Korean peninsula starting Aug. 5, a show of force meant to improve Seoul's defense posture and deter provocation of the Democratic People's Republic of Korea (DPRK), according to Rear Adm. Kim Kyung-sik of the South Korean Joint Chiefs of Staff (JCS).
"The exercises are of defensive nature and will be carried out in South Korean waters. Finding faults with it itself would constitute a kind of provocation," Kim told a press briefing. "We will not tolerate any provocation of the enemy."
The announcement follows the DPRK's warning of a "powerful physical retaliation" against the war game, which will be held near the disputed maritime border off the west coast of the Korean peninsula where Pyongyang allegedly sank a South Korean warship on March 26 with a loss of 46 South Korean sailors. Pyongyang has denied the charge.
The drills will involve some 20 vessels, 50 aircrafts and 4,500 troops and coast guards, and serve as a warning against Pyongyang' s further provocation, he said.
The military exercises follow a massive joint South Korea-U.S. naval and air exercises in waters east of the divided peninsula last month in response to the warship sinking.
Editor:Zhang Pengfei |Source: CNTV.CN