Watch Video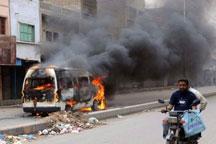 Play Video
The funeral of murdered Pakistani politician, Raza Haider has been peacefully held in Karachi. His death sparked clashes between supporters and political rivals across the city leaving at least 45 people dead.
Thousands of mourners, relatives and activists attended the funeral of Raza Haider, a provincial lawmaker. He was gunned down Monday along with his bodyguard while attending a funeral.
The government blames the Taliban and the banned militant group Sipah-e-Sahaba Pakistan for the killing.
Raza Haroon, Provincial Minister, said, "Everybody from MQM, including the founder leader Altaf Hussain, is expressing fears the Taliban are taking over Karachi. Nothing has been done about it. As a result, we see our MP has been shot. The other question that arises in our mind is, where is the Taliban hiding?"
Haider was a member of the Muttahida Qaumi Movement also known as MQM, It is the political party that runs the city.
Within hours of his assassination, gangs torched buildings in Karachi and gunfire erupted in several parts of the city.
Authorities say many of the dead were killed in targeted, execution-style attacks. An investigation has been ordered into who was behind the attacks.
Locals say they can't tolerant the violence any more.
Mohammad Suleman, Local Resident, said, "Every day the lives of innocent people are taken. For God's sake, something should be done to stop it. Hundreds of women have become widowed and thousands of children have become orphans. It must be stopped."
A Provincial official says at least 20 people were arrested, and police and armed police were dispatched throughout the city to impose order.
But gunfire could still be heard Tuesday morning, and fires were still being set in some areas.
Karachi has a long history of ethnic, religious and
sectarian violence. It was a main target of al Qaeda-linked militants after Pakistan joined the US-led campaign against militancy.
Editor:Zhang Pengfei |Source: CNTV.CN