Watch Video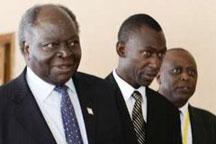 Play Video
Kenyans are scheduled to vote Wednesday on a new constitution - the first national election vote since 2007.
It was then that 13-hundred people were killed in ethnic bloodshed caused by a disputed presidential poll. Kenya's President Mwai Ki-baki is appealing for calm ahead of the referendum.
Mwai Kibaki, Kenyan President, said, "Let us all go out and vote peacefully. Thereafter let us get back to undertaking the urgent work of nation building and creating opportunities for our people in this great land we call our home."
The proposed constitution provides an overhaul of the executive, legislature and judiciary, together with a measure of devolution to the regions.
The country will still be ruled by an executive president, but the leader will be constrained by checks and balances, with a parliament to vet key appointments that had previously been made by the presidential office.
One of the biggest proposed changes, is the devolution of power, to new counties. They'll have roughly the same boundaries as the 46 existing districts except each will have its own governor, extra staff and a senator who'll sit in the new senate, to serve as upper house of parliament members.
Related stories
Editor:Zhang Pengfei |Source: CNTV.CN