Watch Video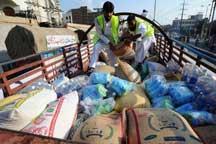 Play Video
The country is in dire need of aid, as the nation deals with its worst flood in decades. In an effort to help, UN agencies and humanitarian partners, are sending relief to the region.
It is the worst flood to hit the region in more than 80 years.
The disaster has already killed up to 1,500 people while rescue workers are struggling to deliver aid to 3.2 million others affected by the floods.
The Pakistani government dispatched medical teams to the deluged northwest amid fears cholera could spread after the worst floods in a generation.
Speaking in Geneva, a World Health Organization official says the UN body has sufficient resources to deal with the disaster. He also says there have been no reports of a cholera outbreak.
Dr. Daniel Lopez-Acuna, Health Action Crisis, said, "As of now, no cholera has been detected in the affected areas. There is of course isolated reports of waterborne diseases, as it normally happens in these type of flood situations. The WHO is taking measures in combination with other partners of the health cluster and with national authorities of health."
Thousands could be seen on the road Tuesday as they tried to flee the area.
However, like all flooded areas, the evacuation was complicated by destroyed bridges and roads.
Rain is forecast for the next few days in Khyber Pakhtunkhwa province and also in Punjab. Rain would make things more difficult for local people.
Mohammad Aleem Ul Hassan, Dep. Dir. Pakistan Metrological Department, said, "Current rainy spells will enhance the effects of floods on the crops because the soil is already saturated with the flood water and further rain will enhance the damages of buildings, crops, as well as infrastructure."
Hundreds of homeless people jostled with police to get food aid.
United Nations agencies and humanitarian partners in the region are providing emergency aid, prioritizing those in the worst affected areas.
The World Food Program provided more than 40 thousand people with life-saving rations. The program aims to reach 250 thousand this week.
Related stories
Editor:Zhang Pengfei |Source: CNTV.CN